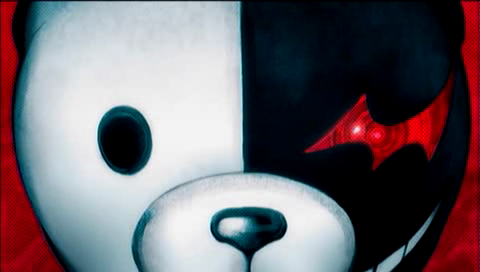 ___They, the ones who dissolved from society, are only here for your amusement. So laugh and jeer at the less fortunate here, for every second will be lost in a moment. From princes and servants, to magicians; they're all there. From the Park of Mutual Killing, Hope Peak's class of 2-C have appeared. All hope isn't lost, but do keep aware... For every distilled disturbance will wake in...
DESBEAR!
___You are one among the several students who has arrived in the Amusement Park of Mutual Killing. Among your group are your fellow classmates... Or are they? You can't seem to remember... In fact you just woke up... Why are you here? How did you get here?___
______________________________________________________________
MAKE YOUR CHARACTER HERE
_________________
I Love This World so Much I could Just.....:
"What the...?" A pair of green eyes opened and looked around. The owner, a girl with short, wavy, orange hair, stood up. Surrounding her were other teenagers- dead on the ground. Or at least that's what she assumed. Clasping her hands over her mouth to prevent a scream, she searched her surroundings anxiously, expecting a masked man with an axe to appear. Instead, she observed that she appeared to be in an amusement park.

The redhead was both very scared and discomfited. She recalled that it was her first day of school at an academy she was invited to and she had just arrived and well, that was it. The rest was lost. And what mattered most was that she needed to get out of this odd place. With her eyes searching on anything that could allow her to escape, they stopped on a huge gate. Assuming that this would be a way out, the girl began to make her way over there. That is, until she tripped over a body.

BabaBushki




Posts

: 14


RPoints

: 122320


Join date

: 2012-07-24


Age

: 20


Location

: In Your Head... :P



Rin Kiyozawa was woken up suddenly and rudely. The treasurer sat up and started to crack his bones. looking over next to him was a young girl on the floor. She was smaller than him. Who the heck did she think she was anyways? He stood up and placed his hands on his sides, looking down at her in disappointment. He shook his head and scoffed.
"Hey, What the hell?"
_________________
I Love This World so Much I could Just.....:
"You're alive?!"

The female shrieked, her eyes wide open in surprise. Standing up, the girl looked at the taller male. It didn't take a genius to figure out that he was rather irritated. Feeling insecure,  the redhead took a few steps back, looking at all directions except his. As he cracked his bones, the girl let out an anxious laugh.

"Um.. Who are you..? And where are we..?"



BabaBushki




Posts

: 14


RPoints

: 122320


Join date

: 2012-07-24


Age

: 20


Location

: In Your Head... :P



Rin stood aghast as he looked at the scene in front of him, the small girl backing away in a defensive posture. It all was too familiar. Did he perhaps do something wrong again? Maybe it was his breath? No. It couldn't be that. He showered, and he always brushes his teeth while showering. Rin confidently smiled and nodded. He remembered that he showered because he was singing Re:re by Asian Kung-Fu Generation while shampooing his hair with the new set his aunt had bought him when she went to America last Christmas. No. Now wasn't the time to remember the past! He eyes fixated, with a(n unintentional) glare, on the girl. She asked him an important question. She was counting on him.
"I am fine, thanks for asking." Rin instantly regretted what he said. No! One opportunity to make his first friend this school year... gone like the wind. His sadness however, could be easily mistaken for pure anger. Next to them another student began to wake up.
_________________
I Love This World so Much I could Just.....:

He woke up, but maybe that wasn't a good thing. As he looked out, what he saw before him were a couple of unconscious teens with the same uniform as him, and two very awake ones. The large guy seemed to be attacking the smaller girl. Tatsuya smiled. It wasn't any of his business. He laid back down. Maybe he'll have a better dream.
_________________
I Love This World so Much I could Just.....:
Not replying, she wore a small frown and then looked away from the male. She decided to turn around and walked the opposite way from him- if he was going to be rude, she didn't need to bother with him. She could find the answers to her questions on her own anyways. She was smart enough- or so the girl thought. As she continued on, she accidentally stepped on a hand.



BabaBushki




Posts

: 14


RPoints

: 122320


Join date

: 2012-07-24


Age

: 20


Location

: In Your Head... :P



Just lying on the ground, Tatsuya could feel his anxiety start to get the best of him. He immediately sat up and analyzed the unknown area around him. It seems that they all were on the blacktop in front of a rather large theme park, its gates open. As he turned his head, He noticed that the two he had seen earlier separated. The boy completely distraught as the girl stomped away atop of someone else's hand, but all in all, Tatsuya decided that wasn't important. He was obviously going to choose to ignore the other bodies (which was his initial plan), but found that it was going to be impossible because soon enough, as he started his way to the gates, everybody else started waking up.
She was having dreams of grandeur until she felt, the rather immense, pressure on her left hand. Kagura's eyes shot open, followed by a constant repetition of "Ow" to emphasize her pain. Afterwards, she looked up sheepishly to see a young pair of green eyes. She must've fallen asleep on the floor again, the small girl wagered. The consequences of such a happenstance wasn't all too uncommon. The foreign factor to this marvelous equation, however, was that of the ground of which she found herself upon. Kagura's large, glossy eyes laid upon the girl who accidentally stepped on her hands, she gave a shy smile.
"Excuse me miss, may I inquire as to where I am located?" She asked.
"Yeah," A voice called from behind. Another stranger. "Answer that for all of us too."
At this point, the entirety of the group was awake.
_________________
I Love This World so Much I could Just.....:

---
Permissions in this forum:
You
cannot
reply to topics in this forum